It's likely the French who can take credit for the original 'tarte au citron', so for this recipe we turn to France and tip our chapeau. The creamy, dreamy lemon curd is an easy recipe we found from Fine Cooking.  And the Chēbē shortbread dough, gluten and grain free, is so versatile that it makes an awesome crust for for this tart.  So, if you are a lemon-lover, you've got to give this one a go. Vive le citron!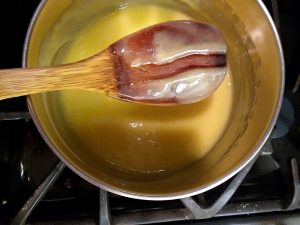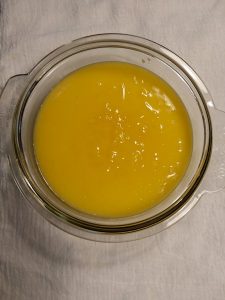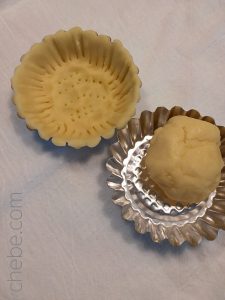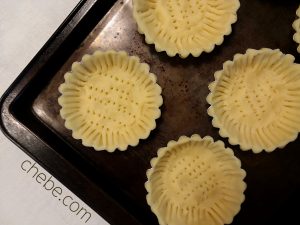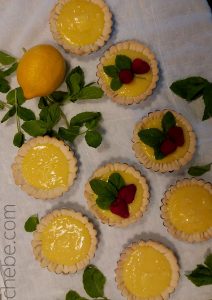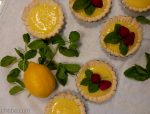 Lemon Tarts
Ingredients
Lemon Curd (makes 2 cups):
3

oz

unsalted butter,

softened at room temperature, 6 Tbs.

1

cup

sugar

2

large eggs

2

large egg yolks

2/3

cup

fresh lemon juice

1

tsp

grated lemon zest
Tart Dough:
1

package (7.5 oz)

Chebe Mix (All Purpose or Original Mix)

8

Tbsp (1 stick)

butter,

softened

½

cup

sugar

1

egg
Instructions
Lemon Curd:
In a bowl and with an electric mixer, cream the butter and sugar until fluffy.

Beat in the eggs and yokes slowly. Blend in the lemon juice.

In a saucepan, cook the mixture over low heat until it looks smooth.

Increase the heat to medium and cook, stirring constantly, until the mixture thickens. Don't let the curd boil. It is cooked when the temperature reaches 170F or when you dip a spoon in the curd and you can leave a clear path on the back of the spoon with your finger (see photo).

Remove from the heat and stir in the lemon zest.

Transfer the curd to a bowl. Cover tightly to prevent a skin from forming. Chill the curd in the refrigerator (it will thicken as it cools).
Tart Shells:
Pre-heat oven to 350F.

Blend the butter and the sugar. Add the egg and beat together until creamy.

With a fork or mixing spoon, gradually add Chebe mix and blend until it can form a ball. Chill dough in the refrigerator for about 20 - 30 minutes.

Separate dough into 8 equal pieces, about 2 oz each. Press each piece into a 3" tartlet pan*.

Place in oven for 12 minutes. Check after 6 minutes. If centers puff up, remove from the oven, press it down with a fork, return to the oven to finish baking.

Remove them and let cool.
The Finishing Touch:
Fill the shells with the cold curd (about ¼ cup /per shell) and top with berries and mint. (A little whipped cream or a dusting of powdered sugar wouldn't hurt here.) All ready to indulge in this citrus delight!
Recipe Notes
*You may use other shapes and sizes for your tarts. This quantity of dough is sufficient for two 8" tart pans.
Tightly covered, lemon curd will last about a week in the refrigerator and for about two months in the freezer. (So make a double batch!)
If you prefer them warmed, bake the filled tarts for 15 minutes in a 325°F oven. Top with fruit after removing from the oven.
Limes work, too. Make lime curd the same way as the lemon curd.
Lemon curd recipe from Fine Cooking