Kielbasas in a blanket are a hearty big brother to the pig version. Just two or three of these big boys and your ready for dessert.  Be sure to use a quality sausage and mustard as these two ingredients really make this recipe a winner!
Kielbasas in a blanket are great while watching a ball game or a movie and make a nice meal along with a soup or salad. Old or young, you're going to love these!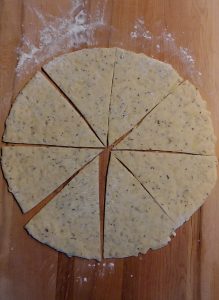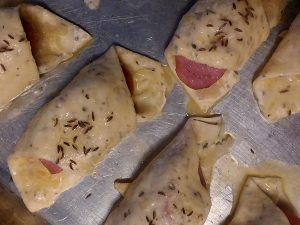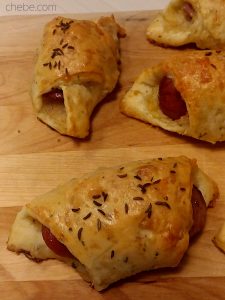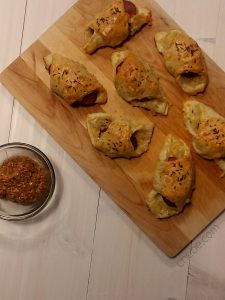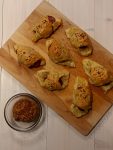 Kielbasas In A Blanket
Ingredients
Dough:
1

package (7.5 oz)

Chebe Original Cheese Bread Mix

3

oz

grated Swiss cheese

2

eggs, large

4

Tbsp

water (or milk/milk substitute if using other Chebe mixes)

2

Tbsp

oil
Filling:
2

oz

sauerkraut

14

oz

kielbasa sausage,

diagonally sliced in 16 pieces

Tbsp

Egg wash

1 egg and 1 water beaten

½

tsp

caraway seeds

2

oz

stone ground mustard
Instructions
Preheat oven to 375F. In a mixing bowl, add the Chebe mix. With a fork, blend in the cheese, eggs, water, and oil. Mix for a couple of minutes then use your hands and knead it until the dough is smooth and well blended. Separate the dough into two equal pieces.

On a clean surface and using a rolling pin press each piece dough into circles of 10 to 11 inches in diameter. (You may want to dust the working surface with a gluten free flour or food starch.) Cut each circle into 8 pieces, creating triangles, like slicing a pizza.

Lay a dab of sauerkraut at the base (broad side) of each triangle. Lay a piece of kielbasa over the sauerkraut.

Starting from the base, roll the dough around the kielbasa. Place this on a baking pan with the tip of the triangle resting underneath so that the 'blanket' doesn't open while baking. (Option: use parchment paper on the pan to prevent sticking.)

Repeat with all 16 pieces. Brush with egg wash and sprinkle the tops with caraway seeds.

Bake for 20 minutes. Fertig (done)! Remove and let cool slightly. Serve with stone ground mustard.
Recipe Notes
Don't do eggs? Then skip the egg wash and replace the 2 eggs in the ingredients with aquafaba!
This recipe works great with Chēbē Original Cheese Bread Mix, but you may also try it with these Chēbē mixes: