Gluten free Chēbē dough is super easy to grill, and as long as you have space next to that chicken, those ribs, or whatever else you've go going on, then adding Chēbē on the side is easy, convenient, and reeealy good! Once you've grilled Chēbē, you'll get it … it IS the best way to make it!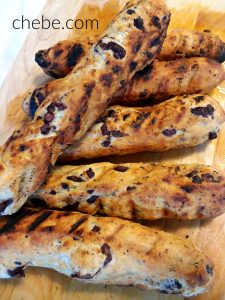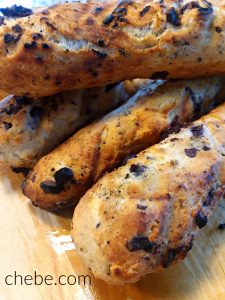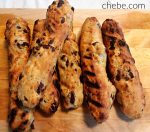 Grilled Chebe Focaccia Breadsticks with Kalamatas
Ingredients
1

package

Chebe Focaccia Bread Mix

1.5

oz

Parmesan cheese

grated (cheese is optional and may use dairy free cheese)

4

Tbsp

milk or milk substitute

2

large eggs

or aquafaba*

2

oz (14 olives)

Kalamata olives

chopped

2

Tbsp

oil
Instructions
Preheat the grill to medium high.

Using a fork, blend the Chebe mix with the cheese. Continue blending in the milk, eggs, Kalamata olives, and oil. Mix for a couple of minutes, then finish off by kneading with your hands until the dough is smooth and well blended.

Shape into 6 breadsticks, 6 inches long. Brush with olive oil.

Place on heated grill for a couple of minutes, then roll them a few times so they are grilled evenly on all sides. This will take about 10 - 12 minutes depending on your grill.
Recipe Notes
*For an egg-free version, use 6 Tbsp aquafaba.
Keep an eye on them and turn them frequently as they could burn in one spot if the grill's heat is uneven.
This recipe works great with Chēbē Focaccia Mix, but you may also try it with these Chēbē mixes: