No gluten, no grain, no soy, no yeast. The recipe also shows an egg-free version. Those on restricted diets will NOT be denied fantastic, flavorful food! We give you:  Grilled BBQ Chicken Pizza!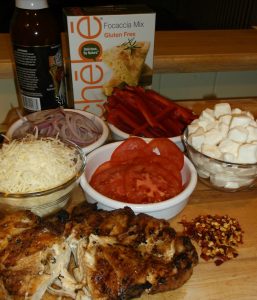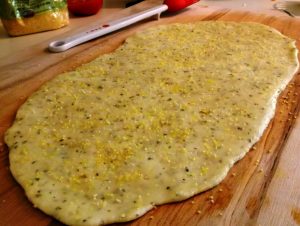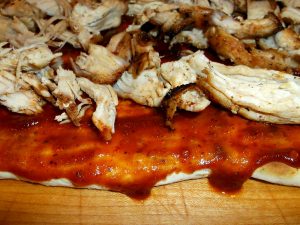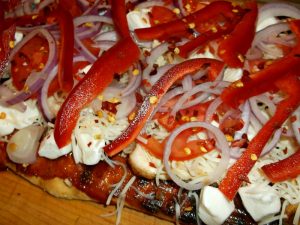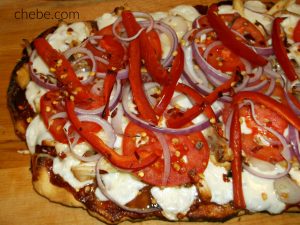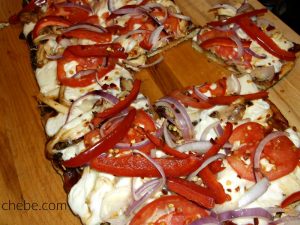 Recipe adapted from Pizza On The Grill, Karmel and Blumer, 2008.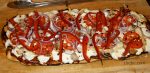 Grilled Chebe BBQ Chicken Pizza
Ingredients
Dough:
1

package (7.5 oz)

Chebe Pizza Crust Mix

1

handful

shredded Parmesan cheese

2

Tbsp

ground flax meal,

optional

4

Tbsp

milk or milk substitute

2

large eggs

or aquafaba*

2

Tbsp

olive oil

¼

cup

uncooked grits or polenta for rolling the dough .,

optional
Toppings:
10

oz

chicken breast (may use cooked rotisserie chicken)

2

Tbsp

olive oil

to taste

Chicken breast seasoning: cumin, chili powder, sea salt, freshly ground pepper

½

cup

BBQ sauce

1

cup

fresh mozzarella cheese,

diced

1

cup

Monterey Jack cheese,

shredded

1

tomato,

thinly sliced

1/3

red onion,

thinly sliced

½

bell pepper,

thinly sliced

BBQ rub or dried chili pepper flakes
Instructions
Chicken:
Preheat grill to high. Rub chicken breast with olive oil, then with chicken seasoning.

Grill both sides until done, let cool, then shred and set aside until later. Keep the grill heated at high.
Dough:
Prepare the Chebe dough according to package instructions and form into a ball, flatten slightly. Flatten/shape the dough with hands until it is between 1/8" and ¼" inch thick. Brush with olive oil. Sprinkle both sides with polenta or grits if desired.

Reduce grill to medium, lay the dough on the grate, close the cover and grill the first side of the crust for 3 minutes. (Keep the cover closed for all 3 minutes!)

With tongs, transfer it to a flat surface (a large cutting board or baking sheet).

Close the grill cover and TURN OFF the center or the side burner (see note below).

Flip the crust to show the grilled side. Cover with a layer of BBQ sauce, and then add the shredded chicken. Continue topping with cheeses, tomato, onion, bell pepper, and BBQ rub or the chili pepper flakes.

Return it to the grill and place it over the burner that is turned off (indirect heat). Close the cover and grill until the bottom is browned and the cheese is melted (7 to 10 minutes).

Remove from the grill onto the flat cutting board or baking sheet.
Recipe Notes
*Aquafaba (bean water) is the liquid from cooked legumes (pinto beans, chickpeas, lentils, etc. 3 Tbsp = 1 egg. We recommend liquid from the can of chickpeas.
Regarding the indirect heating method, turn off the center burner(s) if using a 3 or 4 burner grill, and turn off the side burner if using a 2 burner grill. If using charcoal, push the coals to one side.
Quality ingredients make a big difference in the flavor of the pizza. We recommend a BBQ sauce w/o corn syrup or high fructose corn syrup.
Recipe adapted from Pizza On The Grill, Karmel and Blumer, 2008.
This recipe works great with Chēbē Pizza Crust Mix, but you may also try it with these Chēbē mixes: