The best use of leftovers ever created, this one combines a favorite holiday with a favorite food group! But it doesn't have to be seasonal. That leftover roasted chicken from last night's quick take-home dinner works great on this pizza. The tangy, deep, creamy flavors and textures of the turkey (or chicken), cranberry and brie will have you dreaming of this in July (when it is arguably more difficult to find cranberries… unless you store them in your freezer 😊)!  For those of you who enjoy unique and creative pizzas, this is one you must try!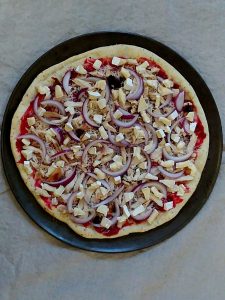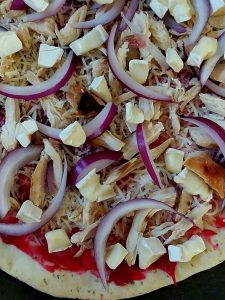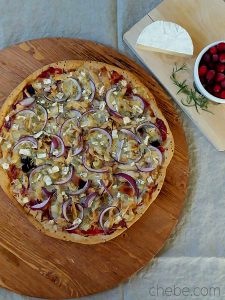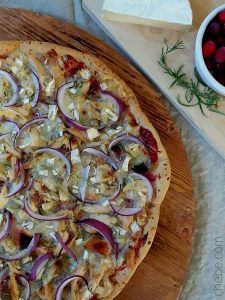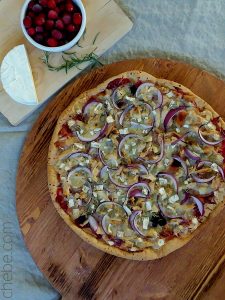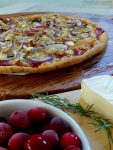 Grain Free Turkey, Cranberry and Brie Pizza
Ingredients
Crust:
1

package (7.5 oz)

Chebe Focaccia Mix (or other savory variety of Chebe)

1

oz

shredded pizza cheese (mozzarella, provolone, asiago, etc.)

4

Tbsp

milk or milk substitute

2

eggs,

large and at room temperature

2

Tbsp

oil

(your choice… EVO works great!)

1

Tbsp

oil for brushing
Toppings:
1

cup

whole cranberry sauce (from leftovers,

from a can, from your favorite recipe, or from the recipe below)

1

tsp

orange zest

(if not already in the cranberry sauce)

1 ½

cups

shredded pizza cheese (mozzarella,

provolone, asiago, etc.)

1 ½

cups

(about 6 oz) cooked turkey or roasted chicken,

shredded. (Use that leftover turkey or roasted chicken you had for dinner last night!)

½

red onion,

sliced

4

oz

brie or Camembert,

cubed

1

Tbsp

fresh rosemary,

chopped (or, 1 tsp ground rosemary) Thyme may be used as an option
Whole Cranberry Sauce (if doing it yourself):
12

oz

whole cranberries,

fresh or frozen

½

cup

water

½

cup

sugar

1

tsp

orange zest
Instructions
Crust:
Preheat oven to 450. In a mixing bowl, add the Chebe mix. With a fork, blend in cheese, milk, eggs and oil. Mix for a couple of minutes with the fork, then use your hands and knead it until the dough is smooth and well blended.

On a clean surface, press the dough into a 14" round. (You may want to dust the working surface with a gluten free flour or food starch.)

Place the dough on a baking sheet. A sheet of parchment paper under the dough is optional. Thoroughly poke the surface of the dough with the tines of a fork (dock ito prevent the dough from puffing up in the oven. Brush the surface with oil.

Bake the dough for 6 minutes and remove from the oven.
Top and Bake:
Blend the cranberry sauce and orange zest in a bowl (if the zest is not already in the sauce). Spread evenly over the pizza.

Evenly distribute the pizza cheese, turkey, onion and brie over the sauce. Sprinkle the rosemary over the top.

Bake for 12 minutes or until the cheese is melted. Let cool 10 minutes and dig in!
Whole Cranberry Sauce (if doing it yourself):
Rinse cranberries and set aside.

In a medium saucepan, boil water and sugar. Stir until sugar is dissolved.

Add cranberries and return the water to a boil, then reduce heat to a simmer. Simmer until cranberries burst, stirring occasionally. This will take about 10 minutes.

Stir in the zest. Set aside to cool or keep in your refrigerator until ready to use.
Recipe Notes
The cranberry sauce can be made a few days ahead of time and stored in the refrigerator, or use what's leftover from your big meal.
This recipe works great with Chēbē Focaccia Mix, but you may also try it with these Chēbē mixes: