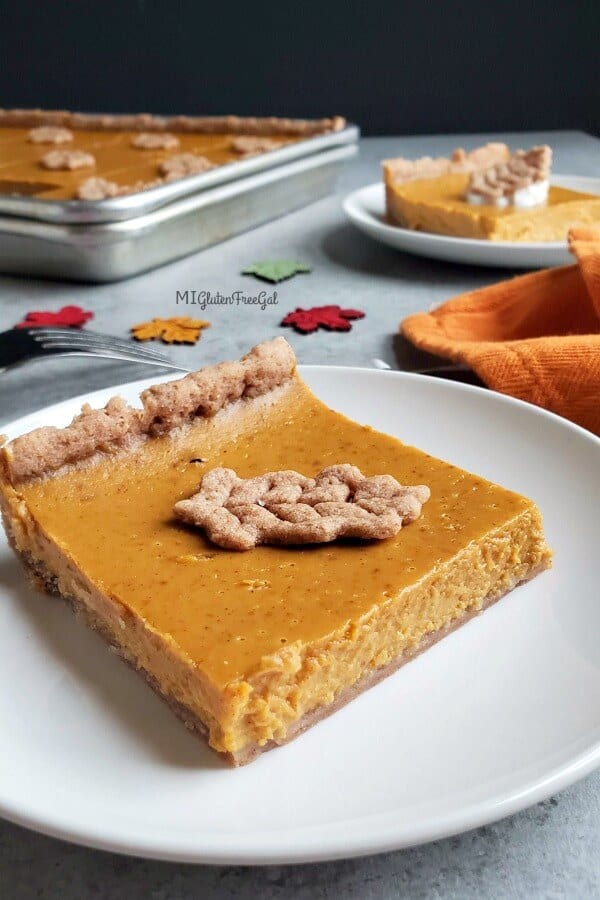 "Of all the pies I've ever made, this Grain Free Pumpkin Slab Pie takes the cake. Or should I say the pie? Made with Chebe's gluten free cinnamon roll mix, it may be the easiest, too.
What is a Slab Pie?
Well, basically it's as it sounds. It's flat slab instead of round. Why make pie in a sheet pan? It's easier to store and to cut. Everyone is going to want a piece of this grain free pumpkin slab pie, and I want to be as fair in my slices as possible. Plus, it cooks faster, in half the time as a regular pie." – Margaret Clegg, MI Gluten-free Gal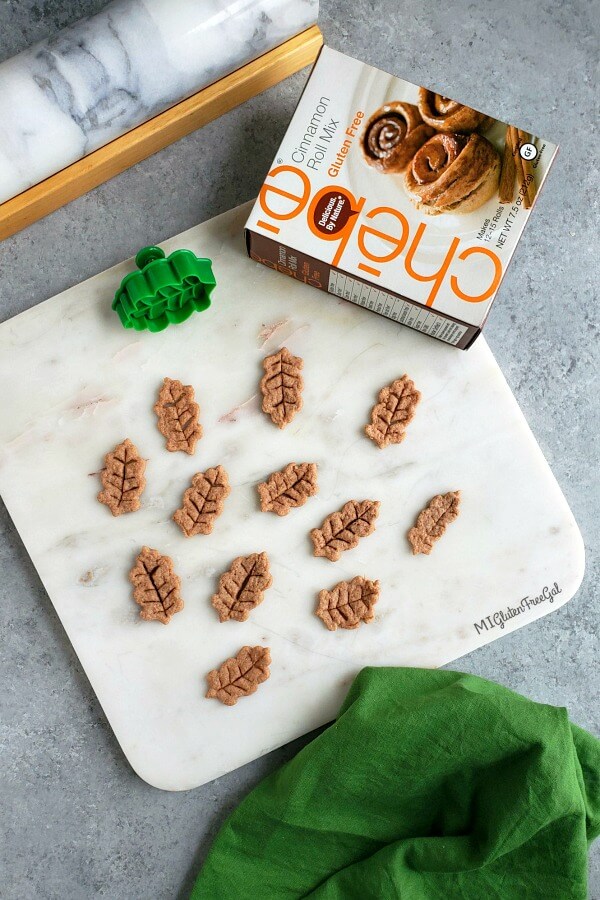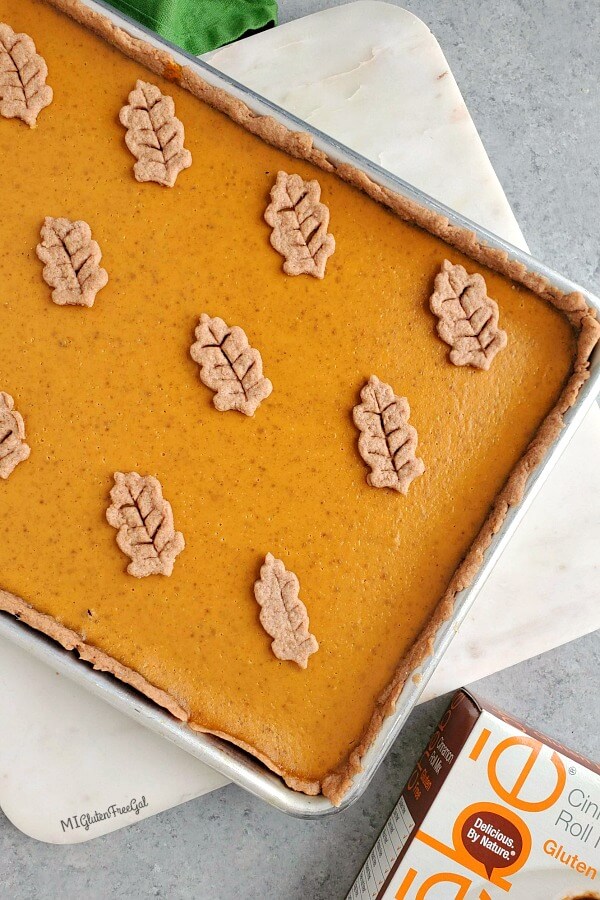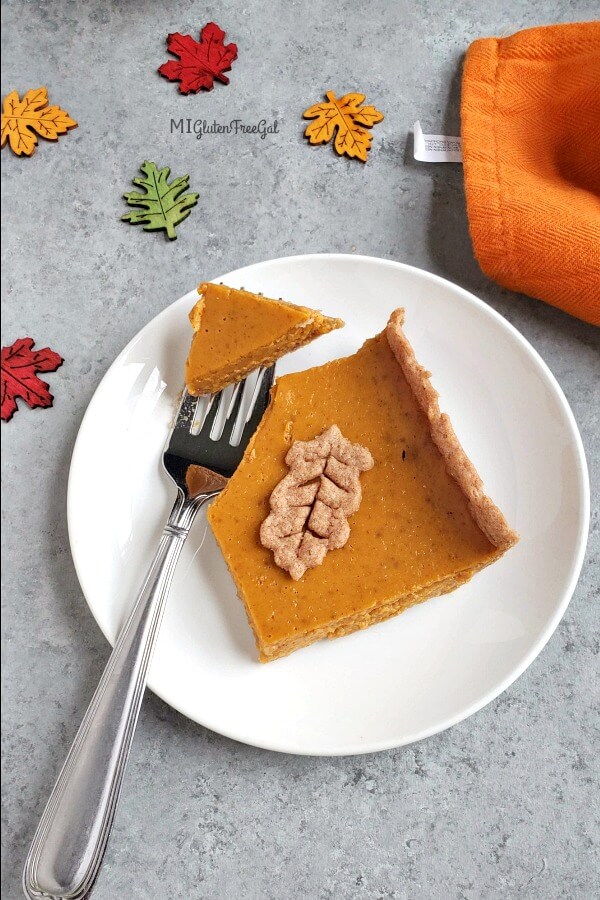 Recipe and photos by MI Gluten-free Gal.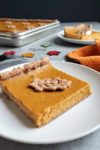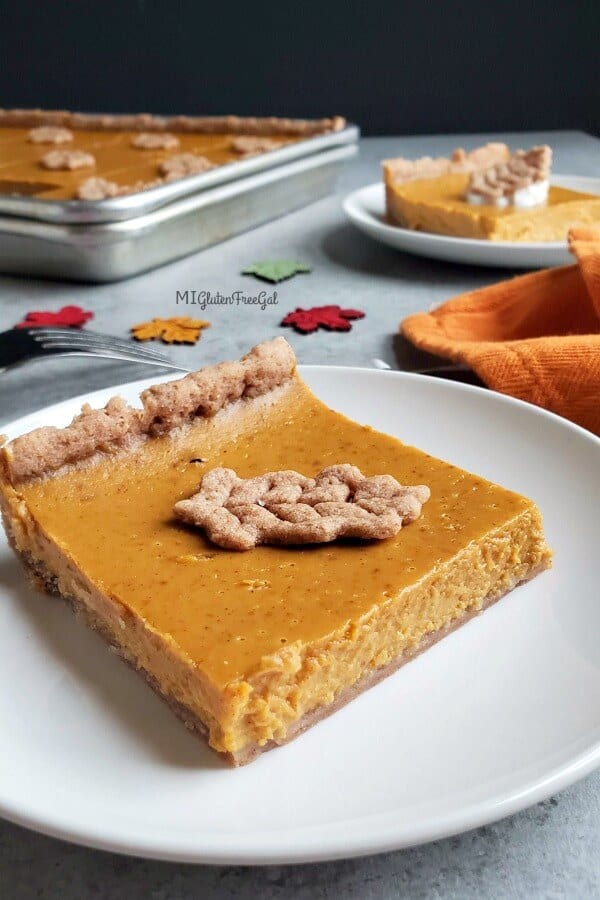 Grain Free Pumpkin Slab Pie
Ingredients
Filling
1/4

c

brown sugar

1/2

c

white sugar

1

tsp

cinnamon

1/2

tsp

ground ginger

1/4

tsp

ground cloves

2

eggs

1

15 oz can

pumpkin

1

12 oz can

evaporated milk

1/2

tsp

salt
Crust
1

package (7.5 oz)

Chebe Cinnamon Roll Mix

2

Tbsp

oil

1

egg

4

Tbsp

cold butter, cut into chunks

4

Tbsp

ice-cold water
Instructions
In a large bowl, combine ingredients for the filling (sugar, spices, salt, eggs, pumpkin and
evaporated milk), and whisk until completely combined. Cover bowl with saran wrap and refrigerate for one to two hours.

Meanwhile, prepare the crust. Add the Chebe Cinnamon Roll Mix to a food processor, along with the oil and egg. Use a fork to quickly mix them together. (This prevents loose powder
from flying all over the processor!)

To that, add the cold butter. Pulse until a dry sand texture develops. This should take 6-7 pulses.

Slowly add the ice-cold water to the processor, one tablespoon at a time. Process until a ball of dough forms.

My dough ball weighed approximately 14 ounces. I separated it into a 10 oz portion for the crust, and a 4 oz portion for the leaf cutouts. (If you don't have a scale, use 2/3 of the
dough for the crust, and 1/3 of the dough for the cutouts.)

Lightly flour a work surface with grain free flour or tapioca starch. Roll the large portion of
dough into a large rectangle, approximately 11 by 15 inches. (Reynolds parchment paper is marked with 2 inch squares, which is helpful for this.)

Transfer crust to an ungreased quarter sheet pan (about 9" x 13"). Use your fingers to press into place, making sure dough forms up the sides of the pan.

Place pan in refrigerator for 15-20 minutes for crust to chill. Doing so prevents the crust from
shrinking as it bakes.

Preheat the oven to 425 degrees. Once oven is preheated, removed crust and filling from the
refrigerator. Pour approximately half of the pie filling into the prepared crust.

Open the oven, and slide out the bottom baking rack, positioned in the middle of the oven. Place partially filled pie on rack. Pour the remaining portion of the filling into the pan, push in baking rack, and close oven door. (I did it this way as to prevent the filling from spilling while transferring from the counter to the oven. You may also want to place a cookie sheet on the bottom baking rack to prevent spills in the oven, should your pie filling bake over the pan.)

Bake the pie at 425F for 10 minutes. Then, immediately turn the temperature down to 350F, and continue to bake for another 20 minutes. Bake until the outer edges of the slab pie are set, and the center is ever so slightly jiggly.

Remove pan from oven and allow to cool to room temperature. (After mine cooled I placed it in the refrigerator for several hours.)

While the pie is cooling, work on your leaf cutouts, if you choose to do them. Roll the remaining 4 ounces of dough into a thin layer. I used pie crust cutters to make the leaves. Press down gently on the plunger to make the inner leaf indentations. Even though I planned to cut the pie into 12 portions, my remaining dough made more than 12 cutouts. They make great "graham cracker" shapes for later snacking!

Transfer raw cutouts to a lined cookie sheet. Spray them with oil and bake for 10 minutes at 350F degrees. Remove immediately and allow to cool.

When ready to serve the pumpkin slab pie, cut into equal portions and adorn each piece with a leaf cutout. Add whip cream if desired, but I would add whip cream first and then top it with a leaf cutout.
Recipe Notes
Want to make it round? Simply roll the crust into a circle and place in a regular 9″ round pie pan. Make sure to press the dough up the sides of the pan. I highly recommend chilling any pie crust prior to baking, as it prevents it from shrinking in the oven.