A spanakopita is a spinach pie, Greek-style. Carol at Simply Gluten-Free created a version of this pie using gluten and grain-free Chēbē dough, and filling it with spinach, feta, Parmesan, onions, and other tasty seasonings. As you can see, she did a great job.  Chalk another one up for the versatility of Chēbē !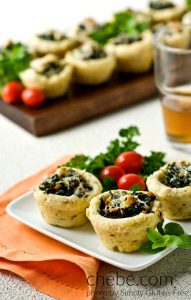 Recipe and photos by Simply Gluten-Free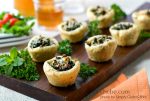 Gluten Free Spanakopita Bites
Ingredients
Gluten Free non-stick cooking spray

2

Tbsp

pine nuts

2

packages (7.5 oz ea)

Chebe Focaccia Mix

6

Tbsp

olive oil

divided use

4

large eggs

8

Tbsp

water

1 1/2

cups

of grated Parmesan cheese

divided use

1

small white onion

chopped

2

scallions

minced

1

box (10 oz)

frozen spinach

thawed

4

oz

feta cheese

crumbled

1/2

cup

of ricotta cheese

3/4

tsp

salt

1/2

tsp

freshly ground black pepper

1/2

tsp

freshly grated nutmeg
Instructions
Preheat oven to 375F. Spray 2 (24 each) mini muffin tins with cooking spray.

Put the pine nuts in a dry skillet and cook over medium heat, stirring frequently, until lightly browned, 3-4 minutes. Set aside.

In a large mixing bowl combine the Focaccia mix, 4 tablespoons of olive oil, 4 eggs, water, and 1/2 cup of parmesan cheese. Dump the mixture out onto a clean work surface and knead until a smooth dough forms, about 1-2 minutes. Divide into 48 equal sized balls. Place the balls in the muffin tins and make an indentation with your thumb into each ball forming a cup.

Heat the remaining 2 tablespoons of olive oil in a large skillet over medium-high heat. Add the onion and cook, stirring often, until soft and translucent, about 5 minutes. Add the scallions and cook for 1 minute. Squeeze all the moisture from the spinach and add to the onions. Cook, stirring, until the spinach is totally dry.

Put in a mixing bowl; add the reserved pine nuts, feta, ricotta, salt, pepper, and nutmeg. Stir to combine. Spoon the filling into the cups.

Sprinkle the remaining 1/2 cup Parmesan on top of the cups and bake for 15 minutes or until lightly browned. Serve hot, warm, or at room temperature.
Recipe Notes
This recipe makes a lot of little bites – perfect for a party. For smaller quantities, you can halve the recipe, or freeze leftovers by wrapping them up well after being baked and cooled, then freeze for up to a month. Defrost and then re-heat at 350F for a few minutes until hot.
Recipe by Simply Gluten-Free
This recipe works great with Chēbē Focaccia Mix, but you may also try it with these Chēbē mixes: