Chēbē tortillas are quick, easy, and fresh off the skillet. Perfect for tacos and quesadillas, and if you're avoiding gluten or grain, this is the bomb!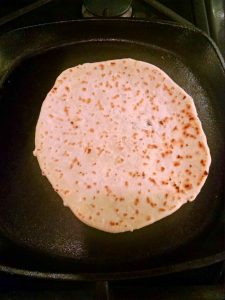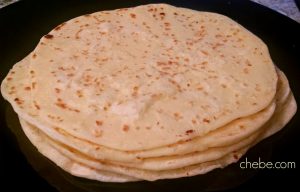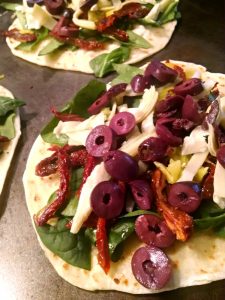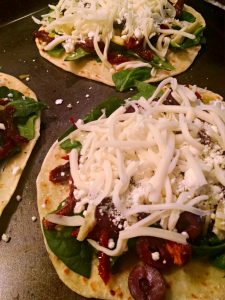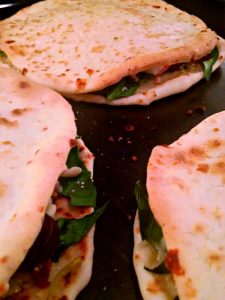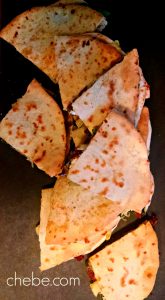 Adapted from Damn Delicious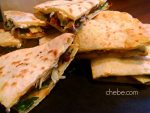 Gluten Free Greek Quesadillas
Course:
Appetizer, Main Course
Ingredients
Tortilla:
1

7.5 oz

package Chebe Original or All Purpose Mix

2

large eggs

1 1/2

oz

mozzarella cheese,

shredded

4

Tbsp

water or milk

2

Tbsp

oil
Filling:
2

cups

baby spinach,

chopped

10

sundried tomatoes packed in oil,

sliced lengthwise

1

oz

artichoke hearts,

quartered and sliced

3

or 4 peperoncini or banana peppers,

seeded and chopped

15

kalamata olives,

sliced

1-2

oz

feta cheese,

crumbled

1-2

oz

mozzarella cheese,

shredded
Instructions
Preheat the oven to 400F.

Prepare all of the fillings and set aside.

Prepare the dough according to package directions using only 1 ½ oz of cheese. When the dough is smooth and well blended, separate it into 6 equal pieces. Each piece will weigh about 2.5 oz.

On a clean dry surface, press a piece of dough into a 5" flattened round. Take two sheets of waxed paper and a rolling pin, placing the dough in between the paper, and continue to flatten the dough to about 7" diameter. Gently remove the paper from the dough. If your tortillas need more rounding, you can do this with the tips of your fingers.

Set on a plate and prepare the other five similarly. Stack the 6 tortillas with a piece of waxed paper in between each to keep from sticking together.

Heat an ungreased skillet on medium high heat. When hot, place a tortilla on the skillet for a couple of minutes. Flip and do the same for the other side. When both sides are lightly browned, remove and do the same with the other five. Be sure not to overcook. The tortillas should be flexible, not crispy.

Place three tortillas on a large baking tray. Top each with spinach, tomatoes, artichoke hearts, peppers, olives and cheeses. Lightly press the remaining three tortillas on top of each of the fillings.

Place in the oven and bake for about 8 minutes.

Remove and quarter each quesadilla with a sharp knife.
Recipe Notes
Eat these delicious Mediterranean marvels while they're hot! Makes 3 quesadillas (12 quarters), and serves 2 hungry people.
To preserve for the next day, store them in the refrigerator in an airtight container layered with waxed paper Then, pop them in the microwave for one minute under a dampened paper towel.
Adapted from Damn Delicious
This recipe works great with Chēbē Original or All Purpose Mixes, but you may also try it with these Chēbē mixes: