This skillet pie is a great comfort food and a greater way to use leftover turkey or chicken. Rotisserie chicken or cooked and shredded chicken also work great with this recipe.  Add some tasty veggies and you have yourself a wonderful one-skillet meal that everyone at the table will relish!
"Instead of a pie crust I used Chēbē All Purpose Bread Mix and added a little bit of Parmesan cheese for a salty, savory flavor. The Chēbē Mix bakes up perfectly. The top gets slightly crisp and the inside is soft and chewy." – Gluten Free Jess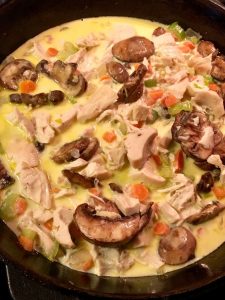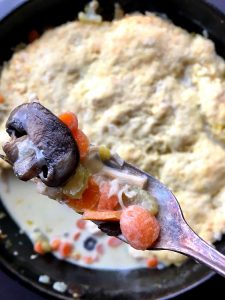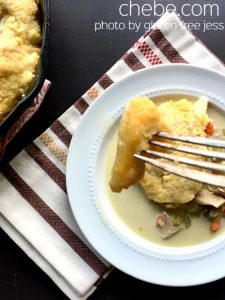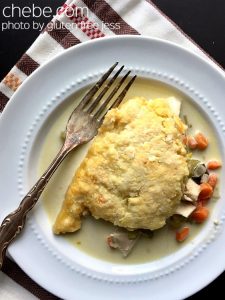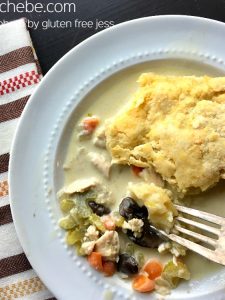 Recipe and photos by Gluten Free Jess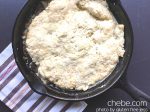 Gluten Free Biscuit Turkey Skillet Pie
Ingredients
Biscuit
1

package (7.5 oz)

Chebe All Purpose Bread Mix

2

Eggs

2

Tbsp

Oil

4

Tbsp

milk

(regular or dairy free)

¼

cup

Parmesan cheese (may use dairy free cheese or omit)
Filling
1

Tbsp

butter or dairy free equivalent

1

Tbsp

olive oil

1

cup

sliced carrots

1

cup

thinly sliced celery

1

cup

sliced baby bella mushrooms

1

cup

small onion

finely chopped (about ½ )

1

clove

minced garlic

2

cups

cooked

shredded turkey or chicken

¾

cup

chicken stock

½

cup

heavy cream (omit if dairy free)

salt and pepper to taste
Instructions
Preheat oven to 350F degrees.

Make the Chebe All Purpose Bread Mix to package directions, adding ¼ cup Parmesan cheese to the mix. Once the dough is blended, set on wax paper and press into an 8 inch disc. Set aside.

Prep veggies.

Add butter and olive oil to an 8 inch cast iron skillet on medium heat.

Add the onions and garlic. Saute for 2 minutes or until the onions start to turn slightly translucent.

Add the celery and carrots. Saute for 3-4 minutes.

Add the mushrooms. Saute for 2 minutes.

Add the chicken broth and the shredded turkey. Let simmer for 5 minutes.

Turn off the heat and add the cream. Stir to combine.

Place the dough on top of the filling.

Set your cast iron skillet on top of a sheet tray before putting in the oven in case the filling bubbles.

Bake for 30 minutes until the top is golden brown.

Let stand for 10 minutes before serving.
Recipe Notes
If you don't have a cast iron skillet, use another oven safe skillet or make the filling and transfer to an 8 inch baking dish prior to topping with the dough. 
If you want a thicker filling you can add 1 Tbsp gf flour to your veggie mixture before adding the broth. I like this to be more soupy to dip the biscuit in. 
If you need to make this dairy free, swap out cream, butter, and Parmesan with your favorite dairy free ingredients.
I actually did not use any seasonings in this recipe. The stock and cream are a super flavorful combination and if you are using leftover roasted turkey or rotisserie chicken I find that to have enough salt and flavor.
Recipe and photos by Gluten Free Jess
This recipe works great with Chēbē All Purpose Mix, but you may also try it with these Chēbē mixes: