Carol puts her own spin on Chēbē Garlic-Onion Breadsticks. After baking, she wraps them in bacon and rolls them in Parmesan. Then, back to the oven they go to finish off. Now why didn't WE think of that!? Definitely taste-bud friendly!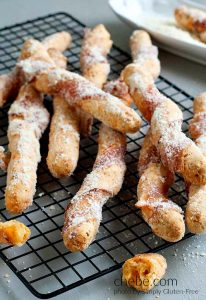 Recipe and photos courtesy of Simply Gluten-Free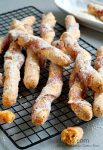 Gluten Free Bacon and Parmesan Breadsticks
Ingredients
1

package (7.5 oz)

Chebe Garlic-Onion Breadstick Mix

2

Tbsp

olive or vegetable oil

1

cup

shredded sharp cheddar cheese

2

large eggs

4

Tbsp

water

1/2

cup

grated Parmesan cheese

1

teaspoon

garlic powder

6

slices

bacon

cut in half
Instructions
Preheat oven to 375F. Line a baking sheet with parchment paper or a silicon baking mat.

In a mixing bowl, combine the breadstick mix, olive oil, cheddar cheese, eggs and water.

Dump the mixture onto a clean work surface and knead until smooth.

Divide the mixture into 12 equal portions and roll into sticks about 7 or 8 inches long.

Place the breadsticks on the prepared baking sheet and bake for 20 minutes.

Combine the Parmesan cheese and garlic powder on a plate.

Wrap the breadsticks with the bacon, gently stretching the bacon as you do.

Roll the breadsticks into the Parmesan mixture, return to the baking sheet and bake for another 20 minutes or until the bacon is cooked and the breadsticks crisp.
This recipe works great with Chēbē Garlic-Onion Breadstick Mix, but you may also try it with these Chēbē mixes: