"It is not often that I am at a loss of words. But this tart – I hardly know what to say. Maybe because I am too busy munching away at it as I try to write. So let me just say this – sautéed wild mushrooms, creamy garlicky herb cheese, an herby, crispy gluten free crust. And dead simple to boot!" – Carol Kicinsky, Simply Gluten-Free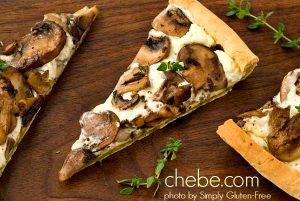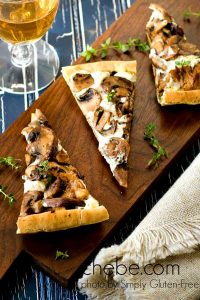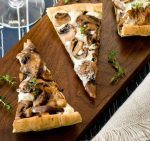 Easy Mushroom Tart
"It is not often that I am at a loss of words. But this tart – I hardly know what to say. Maybe because I am too busy munching away at it as I try to write. So let me just say this – sautéed wild mushrooms, creamy garlicky herb cheese, an herby, crispy gluten free crust. And dead simple to boot!" – Carol Kicinsky, Simply Gluten-Free
Course:
Appetizer, Main Course
Ingredients
1

package (7.5 oz)

Chebe Pizza Crust Mix or other savory Chebe variety

2

large eggs

4

Tbsp

milk

2

Tbsp

olive oil

2

Tbsp

unsalted butter

1

pound

assorted wild mushrooms

sliced

½

tsp

kosher salt

½

tsp

freshly ground black pepper

7

ounce

spreadable garlic and herb cheese (such as Boursin)

2

tsp

fresh thyme leaves
Instructions
Preheat oven to 450 degrees.

Combine the pizza crust mix, eggs, and milk in a bowl and mix. Turn mixture out onto a clean work surface (mixture may still be crumbly) and knead by hand until smooth, about 1 minute.

Roll into a 14 inch circle. Roll the edges of the dough up to create a border. Place on an ungreased baking sheet and bake for 12 minutes. Remove but leave the oven on.

Heat a large skillet over medium-high heat. Add the olive oil and butter and let the butter melt. Add the mushrooms, salt, and pepper. Cook until the mushrooms are browned, have released any liquid and the liquid has evaporated, about 5 minutes.

Spread the cheese on the cooked crust. Layer on the mushrooms and sprinkle with the fresh thyme. Return to the oven and bake for another 5 – 6 minutes or until the cheese is melted and starting to brown.

Cut into wedges and serve warm.
This recipe works great with Chēbē Pizza Crust Mix, but you may also try it with these Chēbē mixes: