"Chicken Cacciatore is an Italian "hunter style" dish of braised chicken that simmers away, filling your house with delightful scents. It is best eaten with a bit of focaccia or Italian bread on the side to sop up the juices. And these are both gluten free recipes for another day – a lazy day when you have time to cook and sip wine and sit down for a leisurely meal." – Carol Kicinski, Simply Gluten-Free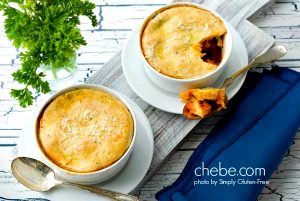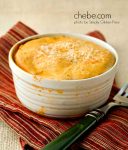 Chicken Cacciatore Pot Pie
"Chicken Cacciatore is an Italian "hunter style" dish of braised chicken that simmers away, filling your house with delightful scents. It is best eaten with a bit of focaccia or Italian bread on the side to sop up the juices. And these are both gluten free recipes for another day – a lazy day when you have time to cook and sip wine and sit down for a leisurely meal." - Carol Kicinski, Simply Gluten-Free
Ingredients
1

package (7.5 oz)

Chebe Focaccia Mix (or other Chebe savory variety)

4

tablespoons

olive oil – use divided

1

medium white or yellow onion

diced

3

cloves

garlic

minced or grated

1

red bell pepper

diced

8

ounces

white mushrooms

sliced

¼

cup

white wine

½

tsp

kosher salt

¼

tsp

black pepper

1

24 oz. jar

pasta sauce

2

cups

cooked chicken

diced

3

large eggs – use divided

1 ¼

cup

grated parmesan cheese – use divided

(optional omit for dairy free)

¼

cup

water
Instructions
Preheat oven to 375 degrees.

Heat 2 tablespoons olive oil in a large skillet over medium-high. Add the onions and cook until they start to soften, about 2 minutes. Add the garlic, cook for 30 seconds, stirring. Add the sliced pepper and mushrooms and cook until the mushrooms have released their liquid and the vegetables are starting to brown, about 8 minutes. Add the wine and cook, stirring, until it has all evaporated. Add the salt, pepper, pasta sauce and chicken and heat through.

In a mixing bowl combine the Focaccia Mix with the remaining 2 tablespoons of olive oil, 2 eggs, 1 cup grated cheese if using and the water. Stir with a fork to combine. The mixture will look crumbly, that's ok. Turn the mixture out onto a clean work surface and knead until the mixture comes together into a smooth dough. Roll out to about ¼ inch thick. Using the ramekins you are going to bake the pot pies in as a guide, cut out 6 circles the size of the top of the ramekin. If you need to reform the dough and re-roll, that's fine.

Spoon the chicken mixture into 6 – 1 cup or so ramekins, top with the dough circle. Beat the remaining egg and brush on the top of the dough. Let dry a minute or two then brush again. Sprinkle with the remaining cheese if using. Place the ramekins on a baking sheet and cook for 25 minutes or until the crusts are browned.
This recipe works great with Chēbē Focaccia Mix, but you may also try it with these Chēbē mixes: