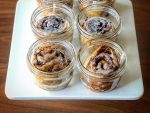 Chebe Sous-vide Cinnamon Rolls
Ingredients
Dough:
1

package (7.5 oz) of Chebe All Purpose mix

1

Tbsp

olive oil

2

eggs

3

Tbsp

apple sauce

1 1/2

tsp

baking powder
Filling:
4

Tbsp

ghee or grassfed butter,

softened

1/2

cup

coconut crystals

1

Tbsp

tigernut flour

1

tsp

cinnamon
Icing:
1/4

cup

raw coconut butter

(Manna)

Coconut oil

1

Tbsp

raw honey
Instructions
Set Precision Cooker to 180F

In a large bowl, combine the Chebe mix & baking powder. Add the eggs, olive oil & apple sauce and mix to form dough. Once dough starts to form, use your hands to knead the dough to a smooth consistency.

On a sheet of parchment paper, use a rolling pin and roll the dough into a rectangle about 8"x20" or so.

In a medium bowl, combine the ghee (softened butter), coconut crystals, tiger nut flour, and cinnamon with a hand mixer. This is the filling. Spread the filling evenly over the dough rectangle. Tightly roll the dough from one short end to the other, forming a thick tube. Cut the tube into 6 individual rolls.

Using a little coconut oil, grease the insides of 6 small Ball jelly jars. Place the rolls in the jars so the cinnamon swirl side is facing up and seal the jars GENTLY. Do not over-seal the jars by screwing the tops on tight. You want to twist the lids just enough that it's secure, but not tight.

Place the sealed jars in the water bath. If they don't sink or sit flat on the bottom, take an empty jar and place it on top so that it fills up with water and holds the sealed jar down beneath it. Leave them in the 180º water bath for 2 hours.

After 2 hours, carefully remove the jars from the water using tongs or a large slotted spoon. For the icing, place the coconut manna in a bowl and slowly heat it in the microwave so it gets soft. Stir in 1 tbsp at a time of the raw honey to sweeten the taste. If it starts to get dry, stir in 1 tbsp at a time of coconut oil.

Unscrew the lids from the jars and drizzle the icing over the rolls and serve!