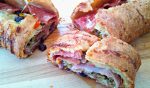 Chebe Rotolo
We refer to this as "Rotolo di Prosciutto al Chēbē" (a.k.a. A fantastic idea for a holiday brunch!) Gluten and grain free, this gourmet delight serves 8-10. Everyone in the house will love it and you can nosh on it all day long! It is easy to prepare the Rotolo ahead and freeze; then bake before serving.

Ingredients
1

package (7.5 oz)

Chebe Original Cheese Bread mix

2

Tbsp

oil

2

large eggs

1

cup

shredded Parmesan cheese

4

Tbsp

water,

milk, or milk substitute

10

oz

thinly sliced deli meats, e.g. prosciutto ham, pastrami, smoked ham, and /or hard salami

(combine varieties for more flavor)

10

oz

thinly sliced cheeses, e.g. provolone, Havarti, and /or sharp white cheddar

(combine varieties for more flavor)

2

Tbsp

pesto

10 - 12

sliced kalamata olives

1

red or yellow bell pepper,

sliced or chopped

freshly ground pepper

to taste

Handful of baby spinach and/or arugula
Instructions
Preheat oven to 375 F.

Prepare Chebe mix with the first five ingredients according to package instructions. When the dough is ready to shape, dust the preparation surface with gluten free flour or starch, then use a rolling pin to flatten the dough in a rectangular shape (15"L x 10"W / dough pressed to about 1/8" in thickness). Cut the edges so that the sides are straight and use the left over dough for making rolls or breadsticks.

Layer the dough with the sliced cheeses and hams, covering most of the surface, leaving 1" around the edges bare. On top of the ham, evenly spread the pesto, olives and peppers. Grind the pepper over the top. Finally, spread the spinach/arugula lightly over the surface.

Loosely roll the dough along the broad side (so that the Rotolo is 15" long) and crimp the ends and edges to seal them. Make small slits along the top, or poke holes with a fork, to allow the heat to escape while baking.

Transfer to an ungreased baking pan and place on the center rack of the oven. Bake for 35 to 45 minutes (watch after 35 minutes) until the crust is browned and the insides are bubbling.

Remove and let cool for 10 – 15 minutes. Slice in 1" segments to serve.
Recipe Notes
The amount of cheese may be reduced or omitted. Our lactose-free Chebe mixes (All Purpose, Pizza Crust, Garlic Onion Breadsticks, and Focaccia) work great with this recipe.
If freezing the unbaked Rotolo to save it for another day, stop at #4, cover well in plastic wrap, and place on a flat surface in the freezer. When ready to bake just add 5-10 minutes to the bake time.
To make two large Rotolos at one time, use three packages of Chebe mix (22.5 oz, or 5.25 cups) and multiply the ingredients by 3. When the dough is blended, split it in two equal pieces. Each piece of dough can be rolled out to 18" x 15". This will give you 2 x 18" Rotolo logs.
Optional fillings: Sun-dried or fresh tomatoes, artichoke spread, bruchetta, fresh garlic, feta cheese, red onions, fresh herbs, ...