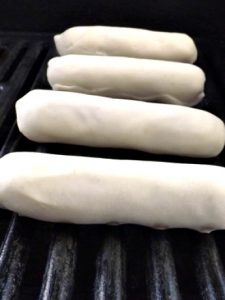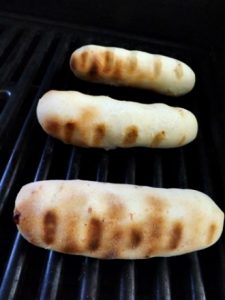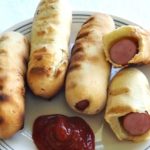 Chebe Grilled Hot Dog Roll-Up
Ingredients
1

package (7.5 oz)

Chebe Original Cheese Bread Mix or other savory varieties

2

eggs

2

Tbsp

oil

4

Tbsp

water

1

cup

shredded cheese (optional)

8

hotdogs
Instructions
Pre-heat outdoor grill to 300-350 degrees

Prepare Chebe Mix as directed, be sure to knead dough thoroughly.

Portion the dough evenly, approximately 8 dough balls.

Rinse hot dogs and pat dry with paper towel. (If dogs are wet the dough will become too moist and difficult to work with.)

Roll each dough ball out to a thin rectangle, approx. 4" x 6", large enough to completely wrap the hotdog.

Wrap the hotdog and seal the dough where it overlaps and on the ends. (If using a braut, leave the ends open to allow the grease to escape)

Place on the grill. You will want to roll/re-position your dogs every 3-4 minutes.

Total baking time on the grill will be 10-12 minutes. Time may vary depending on outdoor conditions and the efficiency of your grill.
Recipe Notes
Serving option:  After they've completed baking on the grill, serve them on a stick, like a corn-dog.
This recipe works great with Chēbē Original Mix, but you may also try it with these Chēbē mixes: