An iron skillet must be the premier food-prep tool. It is indestructible and you can prepare so many recipes with it on the stove, under the broiler, and in the oven. You can even use them over an open flame under the stars.
Chēbē dough is just as versatile! It can be baked, fried, boiled and grilled.  So, it's a perfect companion to the iron skillet.  Try this version of a Chēbē skillet pizza, or use the topping of your preference. Either way, the result will be a pizza that you are going to enjoy making and eating.  Have fun!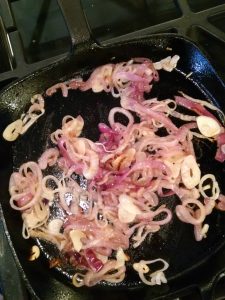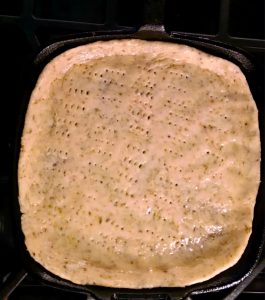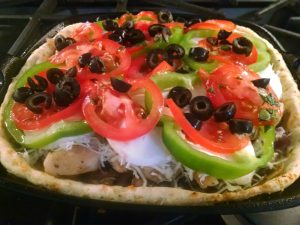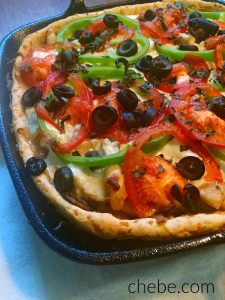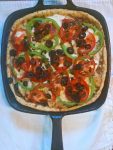 Chebe Gluten and Grain Free Skillet Pizza
Ingredients
Dough:
1

package (7.5 oz)

Chebe Pizza Crust Mix

or other savory Chebe variety

2

oz

Parmesan cheese

shredded

4

Tbsp

milk or milk substitute

2

large eggs

2

Tbsp

oil
Toppings:
1

Tbsp

olive oil or butter

1

red onion small and thinly sliced

2

cloves

garlic

minced

8

oz

baby bella mushrooms

sliced

12

oz

chicken breast

chopped or thinly sliced

4

oz

pizza cheese

shredded

4

oz

fresh mozzarella

sliced

1

green bell pepper

thinly sliced

1

tomatoes

thinly sliced

2

oz

black olives

sliced

2

Tbsp

fresh oregano

chopped
Instructions
Heat your iron skillet on medium high. Add a Tbsp of olive oil or butter. Sauté the onions, garlic and mushrooms. Set aside.

Sauté the chicken and set aside. Wash and dry the skillet.

Preheat oven to 425F. Prepare the dough according to package instructions, using 2 oz. of shredded Parmesan (optional).

Press the dough into the skillet with ½" of it up the sides of the pan. Poke the surface of the dough with the tines of a fork to prevent bubbling of the dough in the oven. Brush the dough with olive oil and bake for 8 minutes. Remove from oven.

Top with the sautéed onions, garlic & mushrooms, then with the chicken, cheeses, pepper, tomatoes, olives and oregano. Return to the oven for 10 minutes or until the toppings are hot and the cheese is melted.

Remove from the oven and let rest 5 or 10 minutes, slice and enjoy.
Recipe Notes
Makes 2-10" pizzas or 1-14" pizza.
If you have a 9 or 10 inch skillet, there will be enough dough for two, so after you've prepared the dough, split it in half and make your second pizza immediately after the first, or use the dough for breadsticks, rolls, etc.
If you have a 14 or 15 inch skillet, the dough is enough for one full pizza.
You can also shape any left over dough and freeze it for another day.
This recipe works great with Chēbē Pizza Crust Mix, but you may also try it with these Chēbē mixes:
"I made different dishes with both the pizza and focaccia mixes with great success. My family prefers them over professionally prepared, gluten-free bakery goods." – Jan Paron