A biscuit full of breakfast!  Baby greens, sautéed onions and mushrooms, egg, bacon and cheese all in a gluten and grain free Chēbē biscuit cup. A hearty meal with flavor in every bite. Call the kids and the adults to the table and serve up this splendid breakfast; they'll all love it!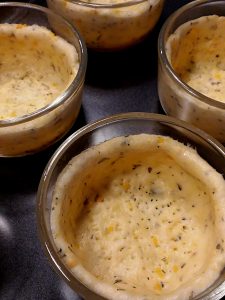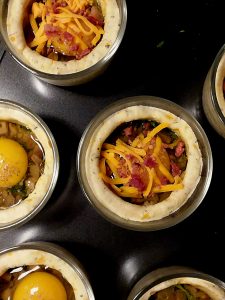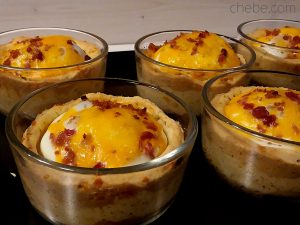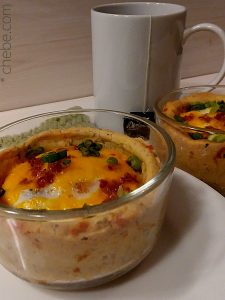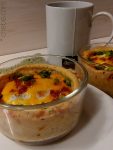 Breakfast In A Biscuit
Ingredients
Filling:
2

Tbsp

butter or olive oil

or a combo of each

½

onion finely, chopped

4

oz

mushrooms,

sliced

1

oz

baby greens

chopped (spinach, arugula, chard, etc.)

8

eggs

Salt and pepper

to taste

1

oz

sharp cheddar cheese,

shredded

2-3

Tbsp

bacon pieces

2

green onions

finely chopped
Dough:
1

package (7.5 oz)

Chebe Focaccia or other Chebe savory mix

1

oz

sharp cheddar cheese,

shredded

2

eggs,

large

4

Tbsp

milk or milk substitute

(water if using Original Chebe Mix)

2

Tbsp

oil
Instructions
Heat butter/olive oil in a small pan and sauté the onions and mushrooms until both are softened. Set aside.

Preheat oven to 375. In a mixing bowl, add the Chebe mix. With a fork, blend in 1 oz of the cheese, eggs, milk, and oil. Mix for a couple of minutes then use your hands and knead it until the dough is smooth and well blended. Separate the dough into 8 equal pieces (about 2 oz each if you have a scale).

Roll each with your hands until the dough is smooth. Press the dough into eight*, 8 oz baking cups** (Pyrex-like or ramekins). Be sure the dough is pressed most of the way up the sides of the cup so the egg doesn't spill over.

With the tines of a fork poke the base of the dough thoroughly in order to reduce puffing in the oven.

Place the baking cups with the dough on a baking pan and bake for 7 to 8 minutes.

Remove from the oven and press down any puffy dough with a spoon. Layer into the cups the baby greens, then the onion/mushroom mixture. Crack an egg onto the mixture and season with salt and pepper.

Top the egg with cheese and bacon and return to the oven for 15-17 minutes. Remove, top with green onions and serve.
Recipe Notes
*If you don't have, or don't want to serve, eight cups you may use the leftover dough to make Chebe rolls.
**If using a different size of cup, adjust the quantity of dough in each according to its size.
This recipe works great with Chēbē Focaccia Mix, but you may also try it with these Chēbē mixes: