It may seem odd, but blending fig preserves with balsamic dressing, tomatoes, blue cheese* and mozzarella together on a pizza gives what can only be described as an unbelievable flavor. We mean, REALLY unbelievable flavor. Your taste buds will forever be grateful!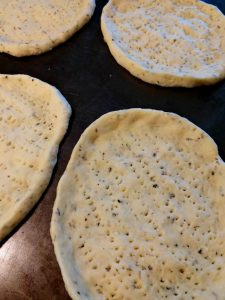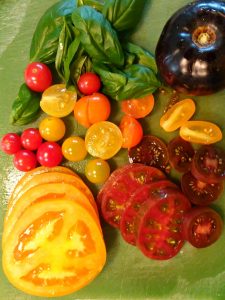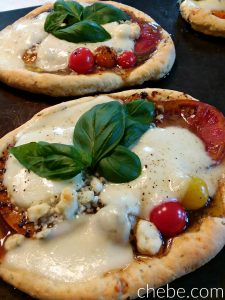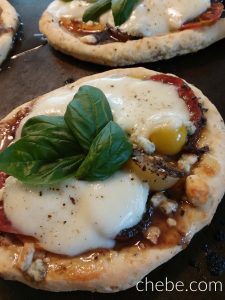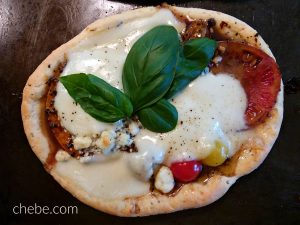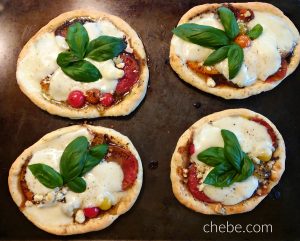 We got the idea of this pizza marvel from Half Baked Harvest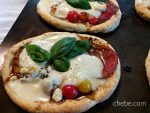 Balsamic on Fig and Heirloom Tomato Pizzas
Servings
:
4
individual pizzas
Ingredients
Balsamic Dressing:
6

Tbsp

balsamic vinegar

3

Tbsp

olive oil

1

Tbsp

oregano

2

cloves

garlic,

crushed and chopped

Salt and freshly ground pepper to taste
Dough:
1

package (7.5 oz)

Chebe Focaccia Mix

4

Tbsp

milk or milk substitute

1.5

oz

Parmesan cheese

2

large eggs or aquafaba**

2

Tbsp

oil
Toppings:
4

Tbsp

fig preserves/jam

1.5

lb

Heirloom tomatoes*** of various shapes and sizes,

sliced

Salt and freshly ground pepper to taste

4

oz

blue cheese*, crumbled

(feta works if you don't like blue)

8

oz

fresh mozzarella,

cut into 8 to 10 thick slices or wedges

Handful fresh basil leaves
Instructions
Blend all ingredients of the balsamic dressing in a small bowl and set aside.

Preheat oven to 400F. In a mixing bowl, add the Chebe mix. With a fork, blend in the milk, cheese, eggs and 2 Tbsp oil.

Mix for a couple of minutes with the fork, then use your hands and knead the dough until it is smooth and well blended. Separate the dough into 4 equal pieces.

On a large baking pan flatten each piece of dough with your fingers into rounds (circles, oblong, or even square-ish shapes are fine) approximately 5" to 6" diameter. Using your fingers press the circumference of the dough to create a small ridge.

Poke the surface thoroughly with the tines of a fork. Bake for about 8 minutes, then remove from the oven and spread the fig preserves lightly over each pizza.

Dip the tomatoes into the balsamic dressing and arrange them on the pizzas. Add a little salt and pepper over the tomatoes and drizzle a little more of the balsamic dressing if you wish (not too much or it will run onto the baking pan).

Continue topping the pizzas with equal amounts of blue cheese and the mozzarella slices. Return to the oven for another 8 minutes.

Remove and arrange the basil leaves on top. Now, get ready to give those taste buds a treat of epic proportion! (Are you sitting?)
Recipe Notes
* Blue cheese has often been thought to have gluten. If you are curious, this article by Teri Gruss, MS may sway your mind. She is a gluten free cook and writer. 
**For an egg-free version, use 6 Tbsp aquafaba.
***Any tomatoes will do, but a variety of sizes and colors give it visual appeal!
Recipe adapted from Half Baked Harvest
This recipe works great with Chēbē Focaccia Mix, but you may also try it with these Chēbē mixes: