A Rustic French Tart by Chēbē. It's easy. It's gourmet. It's gluten and grain free. It's delicious. By nature.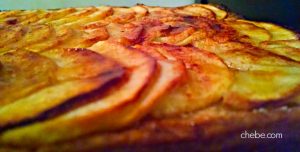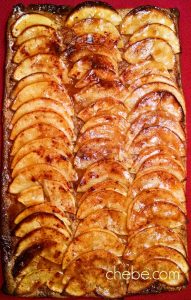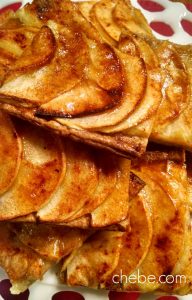 Recipe inspired by follower Laura L T Windsor and adapted from Barefoot Contessa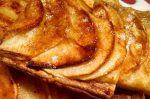 Rustic French Tart
A Rustic French Tart by Chebe. It's easy. It's gourmet. It's gluten and grain free. It's delicious. By nature.
Ingredients
Dough:
1

package (7.5 oz)

Chebe Cinnamon Roll Mix

2

tsp

baking powder

2

large eggs

2

Tbsp

milk or milk substitute

3

Tbsp

melted butter

or oil if dairy free

Egg wash

(blend 1 egg with 2 Tbsp water)
Topping:
3

Granny Smith apples

1/2

cup

sugar

1

Tbsp

cinnamon

2

Tbsp

butter,

omit if dairy free

1/2

cup

apricot jam

2

Tbsp

brandy, rum, or water
Instructions
Preheat oven to 400F

Prepare the dough by blending the Chebe mix in a bowl with the baking powder. Slowly blend in the eggs, milk and butter with a fork. Mix until clumpy, then with your hands continue blending until the dough is smooth.

With a rolling pin, roll the dough to about 10" x 12", (dust the surface with corn starch or gluten-free flour). Trim edges with a knife to make an even rectangle.

Transfer to a baking pan and brush the surface with egg wash.

Peel the apples and cut them in half down the stem. Remove the core and seeds. Slice each half apple crosswise in about 1/8" slices.

Bake the dough for 5-6 minutes.

Remove from oven and layer apple crescents over the par-baked dough until the surface is covered.

Sprinkle the apples with the sugar, then the cinnamon, then dot with butter.

Return to oven for 25 minutes. (Check for doneness at 20 minutes.) The edges of the apples may burn a little.

Meanwhile, blend apricot jam and brandy and heat on stove or in microwave.

When done, remove the tart from the oven and brush the jam mixture evenly over the surface of the tart.

Cut into 12 squares and serve.
Recipe Notes
 - A small dab of vanilla ice cream on top of one of these tarts is nearly heaven.
 - Store uneaten tarts (unlikely to happen) in an airtight container at room temperature for a couple of days. No need to reheat, but if you want them warmed, a dry oven works better than a microwave.
Recipe adapted from Barefoot Contessa