Grissini are crispy, thin breadsticks, usually no fatter than a pencil. For this recipe I upped the flavor (an ease factor) by starting with a box of Chēbē Garlic-Onion Breadstick Mix and adding even more tasty goodness with Parmesan cheese, coarse black pepper, sesame and poppy seeds. They are crispy, salty, flavor-packed bites of goodness that go perfectly with a cocktail or even a steamy bowl of tomato soup."– Carol Kicinski, Simply Gluten-Free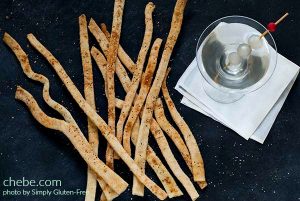 Recipe and photos courtesy of Simply Gluten-Free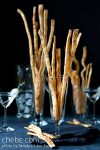 Chebe Grain Free Grissini
Ingredients
Gluten free

non-stick cooking spray

1

7.5 ounce box Chebe Garlic-Onion Breadstick Mix

1/4

cup

olive oil,

divided

1

cup

grated parmesan cheese,

divided

2

large eggs

4

Tbsp

water

2

Tbsp

sesame seeds

1

Tbsp

poppy seeds

1/2

tsp

coarsely ground black pepper

1/4

tsp

coarse sea salt or kosher salt
Instructions
Preheat oven to 425F. Spray 2 flat baking sheets with gluten free cooking spray.

In a mixing bowl, combine the Chebe mix, 2 tablespoons olive oil, 3/4 cup parmesan cheese, eggs and water. Dump the mixture onto a clean work surface and knead until the dough is smooth, about 1 minute.

In a smal mixing bowl combine the remaining 1/4 cup parmesan cheese with the sesame and poppy seeds, pepper and salt.

Place a piece of waxed or parchment paper about 15 x 13 inches on a work surface. Place the dough on the paper and cover with another piece of paper. Roll the dough into a rectangle about 14 x 12 inches and about 1/4 inch thick. Remove the top sheet of paper, brush on 1 teaspoon of olive oil, and sprinkle half of the parmesan/seed mixture on top of the dough, pressing gently to get the seasonings to adhere. Place the paper back on top and flip over the dough and repeat the process on the other side of the dough.

Using a sharp knife or pizza cutter cut the dough into strips about 1/4 inch thick. Gently lift the dough strips off the paper and place them on the prepared baking sheets.

Bake for 10-15 minutes, depending on thickness or until the breadsticks/grissini are browned and crispy. Rotate the pans once halfway through baking time. Let cool and serve.
Recipe Notes
Store in an airtight container or zip lock bag at room temperature for up to 2 days. Makes about 36-48 breadsticks depending on how thick they are.
Recipe courtesy of Simply Gluten-Free
This recipe works great with Chēbē Garlic-Onion Breadstick Mix, but you may also try it with this Chēbē Mixes: