Everything's better with chocolate! And with Chēbē you can be enjoying these delicious gluten and grain free biscotti biscuits in under an hour!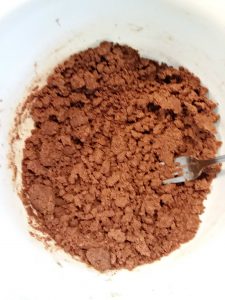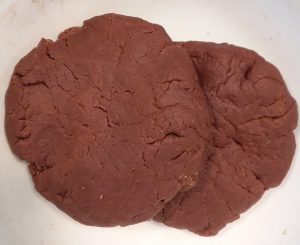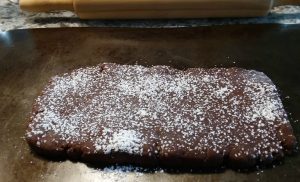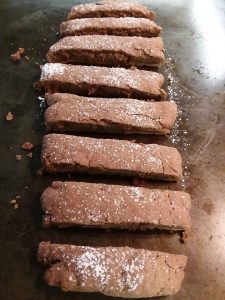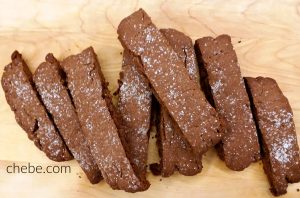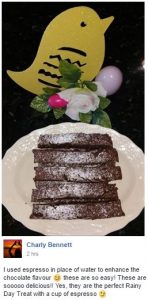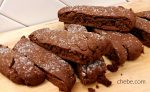 Chebe Chocolate Biscotti
Ingredients
1

package (7.5 oz)

Chebe All-Purpose or Original Bread Mix

½

cup

almond flour or 50g finely ground blanched almonds

(may use millet flour)

5

Tbsp

cocoa powder

6

Tbsp

sugar

6

Tbsp

cold butter (or dairy free margarine),

cut into small pieces

1

large egg

2

Tbsp

water
Instructions
Preheat oven to 350F.

Combine the Chebe Mix, almond flour, cocoa powder and sugar (may be done with a fork and a bowl, or with a food processer).

Add the butter and continue blending until it becomes a coarse meal. Add the egg and continue until it comes together. Add the water and continue mixing well.

Finish making the dough by kneading it with your hands until it becomes smooth and well blended.

Roll dough with a rolling pin into a rectangle block of about 12"L x 4"W x ½"(Use a straight edge to make it edges neat.)

Sprinkle with powdered sugar. Bake at 350F for 15 minutes.

Remove, slice in 1" strips and spread to ½" spacing. Return to oven for 15 minutes.
Recipe Notes
Eat fresh, store them in an air-tight container for 4-5 days, or freeze for later.
To make these extra-delectable, melt chocolate chips in a double-boiler. Dip the tips of the biscotti in the melted chocolate and place them on waxed paper to dry.
If you want to jazz it up a bit, throw in a handful of chopped walnuts, pecans or macadamia nuts.
Like our customer above, substitute the water with espresso to intensify the flavor!
These ingredients also make our Chocolate Crust for Pies/Tarts.
"Thank you for giving us options.. We
💓 you CHEBE!!" – Belinda S.B.