"Gluten /Grain-Free Apple Crisp Cups are everything you love about apple pie in a cute little package! Tart apples, delicious crust, and of course a crumble topping! These Apple Crisp Cups, made with the Chebe All-Purpose Bread Mix, should definitely be in your baking rotation. This mix is a little miracle worker. Not only can it be used for savory foods like bread and buns but it also made a wonderful pie crust! The crust got nice and crisp and had a great flavor that rivaled traditional pie crust. These mini pies are filled with a quick stove top apple pie filling and topped with a brown sugar and cinnamon crisp topping. The results were delicious!" – Katie, Wheat by the Wayside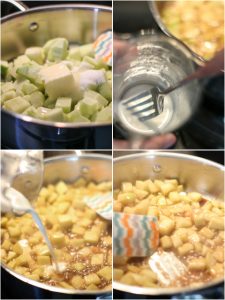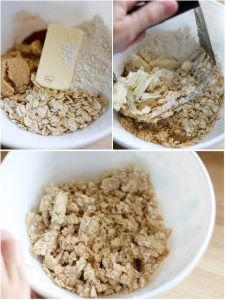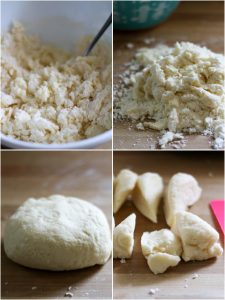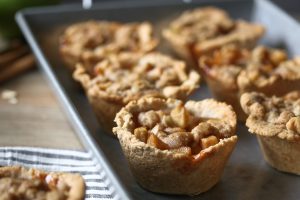 Recipe and photos by Wheat by the Wayside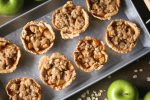 Gluten-Free Apple Crisp Cups
Ingredients
Apple Pie Filling
6-7

cups

small-medium granny smith apples,

peeled and diced, about 6 apples

3

Tbsp

water

1

Tbsp

lemon juice,

freshly squeezed

2

Tbsp

butter

1/3

cup

sugar

1

tsp

cinnamon

1/8

tsp

nutmeg

1

Tbsp

cornstarch mixed in 1 Tbsp water
Crisp Topping
2

Tbsp

brown sugar

1/2

tsp

cinnamon

1/4

cup

gluten-free flour blend

1/4

cup

gluten-free oats

1/4

cup

butter

pinch salt
Crust
1

package (7.5 oz)

Chebe All-Purpose Bread Mix

2

Tbsp

sugar

1/4

cup

butter,

melted

4

Tbsp

milk

1

egg
Instructions
For the Apple Pie Filling:
Peel, core, and dice the apples.

Put the apples, 3 Tbsp water, lemon juice, butter, sugar, cinnamon, and nutmeg in a pan over medium heat.

Cook, stirring often, until the butter and sugar have melted and the apples begin to soften, about 5 min.

Stir the cornstarch into 1 Tbsp of water. Then pour the cornstarch mixture into the apple mixture. Cook and stir until thick and bubbly, about 1 minute.

Remove from heat and set aside to cool.
For the Crisp Topping
Put the brown sugar, cinnamon, gluten-free flour, gluten-free oats, butter, and pinch of salt into a bowl.

Cut the ingredients together using a pastry knife, two butter knives, or your fingers. The mixture should be like clumpy, wet sand. Set aside.
For the Crust:
In a bowl, stir together the Chebe bread mix, sugar, butter, milk, and egg.

Pour the mixture out onto a clean surface and knead until it forms a smooth ball.

Divide the dough into 12 equal pieces. Roll each piece of dough out into a 5-6 inch circle.

To Assemble the Pies

Press each circle into the muffin tin, pressing it up against the sides and allowing it to overflow a little for a rustic look. Poke holes in the bottom with a fork.

Fill each cup with about 1/4 cup of the apple filling.

Top each cup with about 1 Tbsp of the crisp topping.

Bake the pies at 375F for 20-25 min or until the tops and crust are golden brown and the filling is bubbling. Allow to cool slightly before serving.
Recipe Notes
The pies can be wrapped tightly and frozen.
Thaw in the refrigerator for a couple hours, then bake at 350F for 10-15 min or until warmed through and crisp.
To reheat in an air-fryer, place them in the basket and reheat at 350F for 5-7 min.
Recipe by Wheat by the Wayside
This recipe works great with Chēbē All Purpose Mix, but you may also try it with this Chēbē Mix: