An ingenious way to make a great-tasting sandwich pocket with gluten free, grain free, soy free Chēbē. We got this idea from a creative customer, Tara Finlay, then went out and got a taco rack. This was our first impression: "Wow!"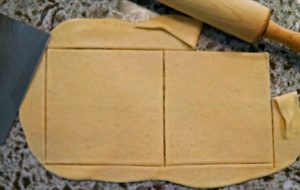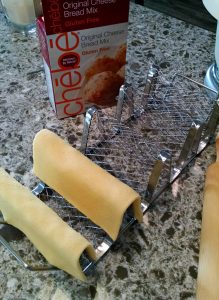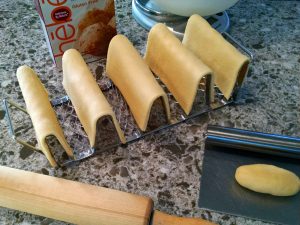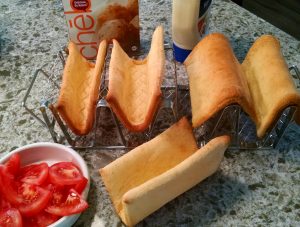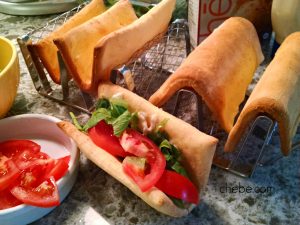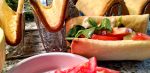 Chebe Chalupa Shells
Ingredients
1

package (7.5 oz)

Original Chebe Bread Mix or other Chebe savory variety

2

Tbsp

cooking oil

2

eggs

3

oz

grated Parmesan or shredded cheddar cheese

4

Tbsp

water

requires a taco baking rack
Instructions
Preheat the oven to 375F.

Blend the dough according to package directions. Dough should be smooth, not too dry and not too sticky.

With a rolling pin, flatten the dough and cut five, 6" squares*.

Drape the squares over the humps of the taco rack.

Bake for about 15 minutes. (Check for doneness after 12 minutes).

Remove gently from the racks. You may need a table knife to help separate the shell from the rack.

Fill with your favorite sandwich fillings, brats, or hot dogs.
Recipe Notes
[We recommend the "Charcoal Companion" Taco Rack, or any 'mesh' rack. We do NOT recommend any rack with a solid surface, as the dough tends to fall off the rack during baking.]
*The dough needs to be flattened thin, about the thickness of a taco shell. For easier handling, you may want to separate the dough into two equal-sized pieces, then flattened. The remaining cut out dough can then be flattened to make a fifth square. To remove the dough from the preparation surface, you may use a spatula to genlty remove it, or you may use a gluten free flour or starch and dust the surface prior to flattening it.
You may store in an airtight container in the refrigerator for the next day. Reheat the shell in the microwave for a few seconds.
This recipe works great with Chēbē Original Mix, but you may also try it with these Chēbē mixes: